About the Artist

Mark Nordquist became a sculptor quite unexpectedly. The brother of a talented painter, artist was not an identity he possessed in his youth.

Mark's early success came in professional football, medical manufacturing and real estate development. Yet art was a natural evolution for this athlete and entrepreneur.

Always one to let his heart and ambition lead, Mark's lifelong affection for animals, love of craftsmanship and appreciation of beauty all figured strongly into his emergence as artist.

Mark's affinity for nature started early.

A California native whose family always included a menagerie of pets, Mark loved the outdoors, spending vacations at the beach, the mountains and the desert. Introduced to camping, fishing and hunting through the Boy Scouts, Mark earned the highest rank of Eagle at age 13.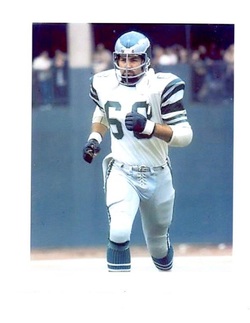 The youngest of three brothers, Mark developed the heart of a gamesman early. He played football, basketball and even chess, which was to figure strongly in his sculpting future. After college, Mark went on to play for 9 years in the National Football League (Philadelphia Eagles, Chicago Bears) where he was an offensive guard and team captain.

At midlife, Mark, an avid scuba diver, was inspired to sculpt his first chess set using a sea animal theme (Le Mer). His natural talent revealed itself immediately and today this self-taught artist's animal themed chess sets are the signature works in his line of fine art sculptures.
---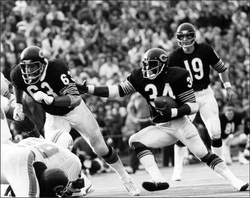 NFL Lineman leading the charge for Walter Payton, Chicago Bears, 1975

---